Live Baccarat from Lucky Streak Review & Casinos to Play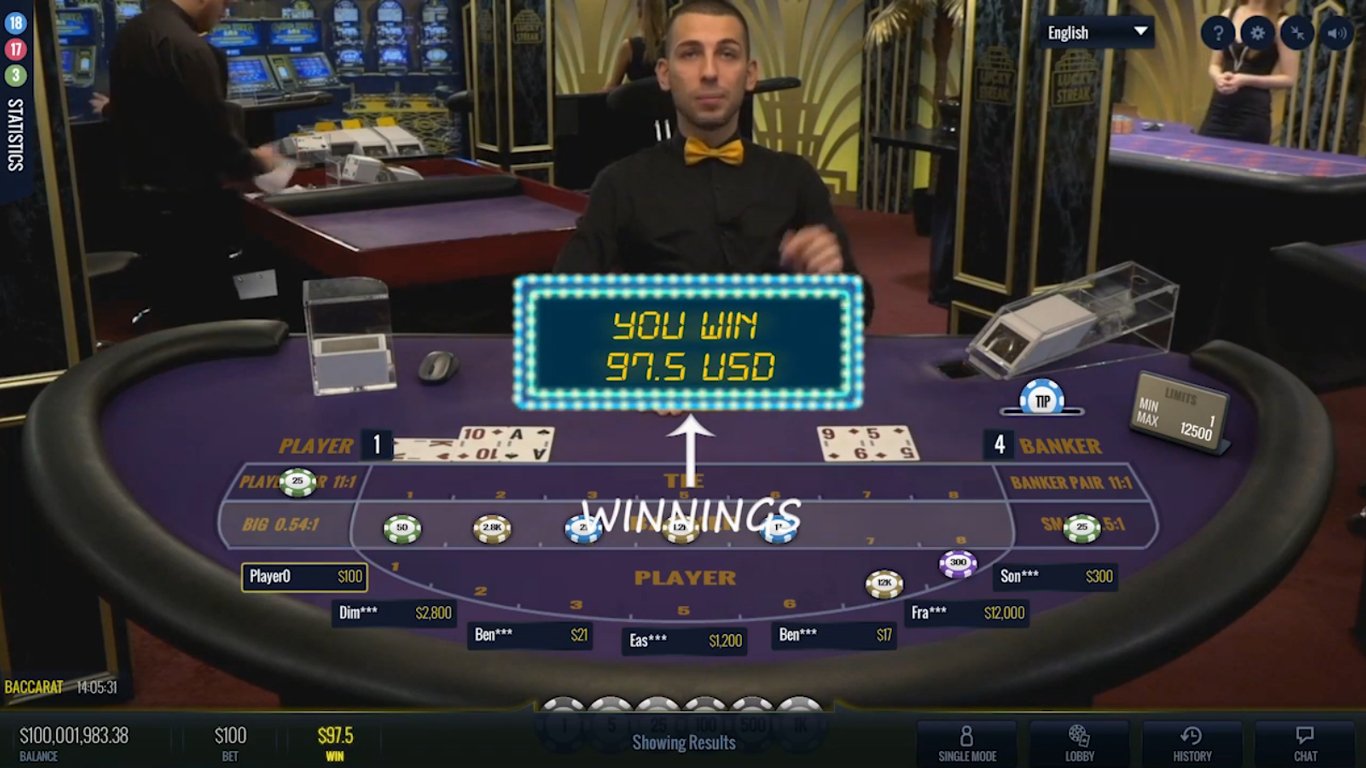 Lucky Streak is a rather new game provider to the market, but one that is full of potential. They are known for their quality games that have HD resolutions, which is why you can spot their games in some of the most reputable online casinos with Baccarat games that operate around the world.
Their main focus is live dealer games and it is worth mentioning that they are doing a fantastic job at creating them. The live games are extremely fun to play and go toe-to-toe with some of the biggest game provider brands when it comes to the overall experience.
One of the most notable mentions is the Live Baccarat game, which is by far their most popular product. This game is featured at many casino sites and that is the reason why we wanted to shed some light into it.
General Information
Live Baccarat by Lucky Streak is an extremely diverse live game that gives players the option to play in both single-player and multi-player.
The game design is pretty simple but quite eye-catching. The colours are extremely soothing to the eye and make every player feel extremely relaxed and welcomed.
One interesting detail that is worth a mention is that helpful hints pop up in the game if you visit the table for the first time. Excellent animations are also featured when you win a hand.
That means that the developers paid attention to more than just the gameplay and made sure that players have a unique gaming experience whenever they decide to play Live Baccarat by Lucky Streak. These animations can be switched off at any time.
The quality of the stream is HD, but you can set it to Auto for it to be utilized with your Internet connection. If your connection is good, then you can manually switch it to HD.
As they say, the details are what makes a game professional and popular and Lucky Streak has paid attention to the smallest.
How To Play Live Baccarat from Lucky Streak
Live Baccarat by Lucky Streak is played with 8 decks. As we mentioned before, you can choose whether you like to play in single-player mode or multiplayer mode. In single-player mode, you are up against the dealer, while multiplayer mode can be played with up to 7 players.
Live Baccarat's gameplay is simple – you bet on the higher card. The betting limits at this game are €1 to €500. There are three major bets: Player, Banker, and Tie. Side bets are also featured in this game and there are a total of 5.
Player/Banker Pair, Big, Small, Perfect Pair, and Either Pair are the side bets. Small side bets pay 1.5:1, Big side bets pay 0.54:1, Perfect Pair pays 25:1, Either Pair pays 5:1, and Player/Banker Pair pays 11:1.
Live chat is also featured in Live Baccarat by Lucky Streak and you can communicate with the players and the dealers. The betting time is around 10 seconds and you can rest assured that time is not wasted while playing this game.
Conclusion
Live Baccarat from Lucky Streak is a fully licensed and regulated game. Thanks to its unique single-player and multiplayer mode, this game has become extremely popular for fans of live dealer games.
Lucky Streak has made sure that Live Baccarat fits the highest of standards as they paid attention down to the smallest details. Live Baccarat is simple to play, has great odds, it is optimized for both mobile and desktop use, and the gameplay is fast.
Related Live Dealer Baccarat Games