Live Dragon Tiger from Evolution Gaming Review & Casinos to Play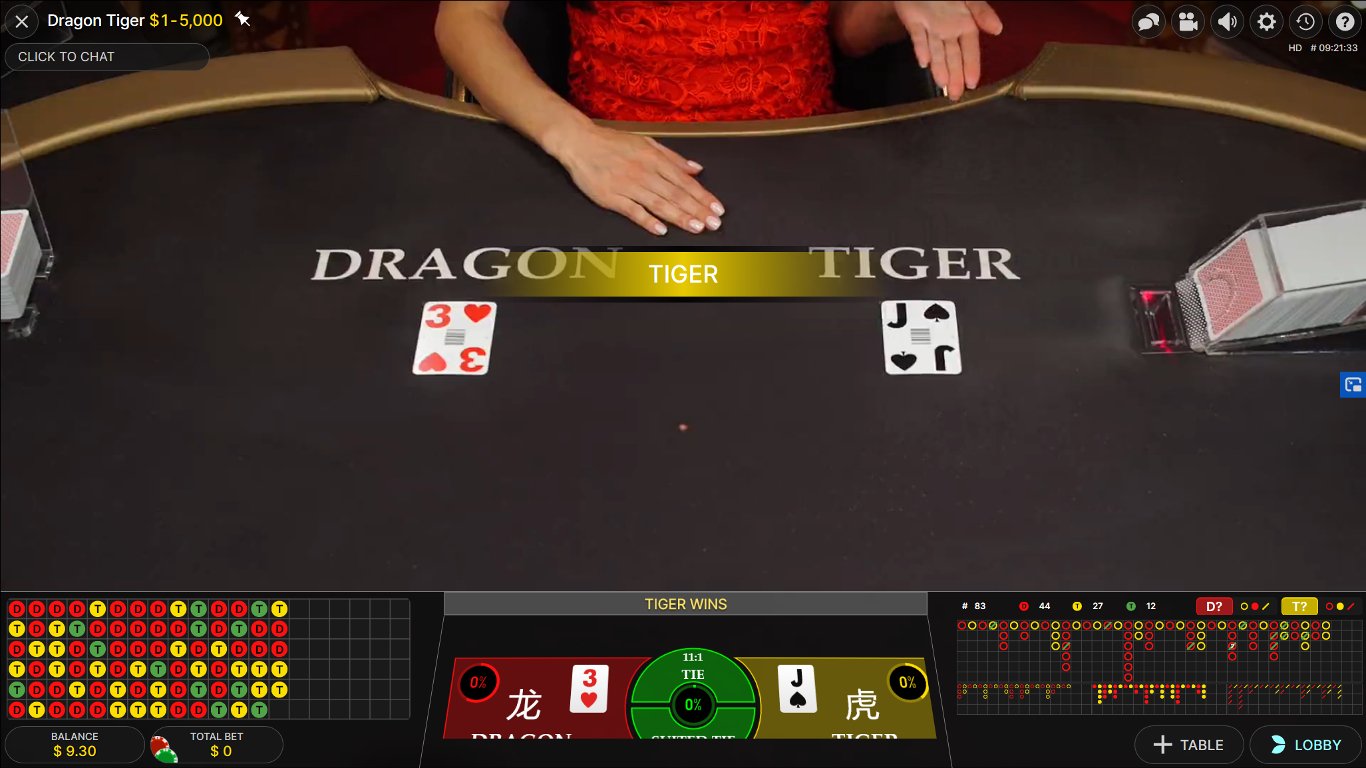 Evolution Gaming is among the most reputable game providers in the world. Thousands of online casinos are supplied with their games. Some of the best features that their games have is an excellent resolution and fantastic gameplay.
Recently, they added one more game on their list – Live Dragon Tiger. Live Dragon Tiger is the most popular live baccarat game by Evolution Gaming and we decided to take a closer look at it and explain all of its features.
General Information
Live baccarat games had a massive surge in popularity recently. Live Dragon Tiger is a live baccarat game provided by Evolution Gaming.
Asians are among the most common players in this game. It has impressive graphics and thanks to its simplicity, this is one of the most popular games by Evolution Gaming. Because it was released in 2018, the massive popularity is a big milestone.
The rounds in Live Dragon Tiger are very quick and take a bit more than 20 seconds to be completed. If you are new to this, you don't need to worry. It only takes 1 or 2 rounds to learn how to play the game. Its simplicity is the greatest feature which is why Live Dragon Tiger is loved by many players around the world, not just Asians.
Dealers conduct the game professionally and with great efficiency. Thanks to their great work, 6 rounds of play are often completed within 2 minutes.
Live Dragon from Evolution Gaming is also completely legit since it is licensed by both the Malta Gaming Authority, the UK Gambling Commission, and the Alderney Gambling Control Commission.
When it comes to the game's performance, it does not lag at all. Players have the option of choosing between classic and 3D viewing mode. Both camera angles are designed so that the player can have a good view of the table and the cards.
How to Play Live Dragon Tiger from Evolution Gaming
Live Dragon Tiger is accessible on both mobile and desktop devices. The game features an Asian-based environment and has a lot of on-screen information.
Like we mentioned before, Live Dragon Tiger from Evolution Gaming is simple to play. The dealer takes two cards from the 8 decks that are on the offer. After that, the dealer places one card on the designated Dragon field and places the other card on the Tiger side.
The goal is to bet on which card will be higher. If the player wins, he or she are awarded a certain amount of money.
A Tie is also a good option for the players. This is a side bet in the game. If the player correctly guesses the outcome, they receive half of their original bet along with the Tie payout of 11:1.
One more side bet is also featured in Live Dragon Tiger from Evolution Gaming. A Suited Tie Bet is similar to the Tie. The only difference here is that the player guesses whether the cards will be the same in rank and same suit.
In this case, the payout massively increases. Players receive half of their initial bet, along with the Suited Tie payout of 50:1.
Conclusion
Live Dragon Tiger is an impressive game. Evolution Gaming has lived up to its reputation and provided players with a simple, yet extremely fun game to play. The performance is awesome, graphics are great, and payouts are high.
Evolution definitely lived up to its standards and Live Dragon Tiger is a live baccarat game that you should try if you are into live dealer games and casino games, in general.
Related Live Dealer Baccarat Games