Baccarat Pro From NetEnt Review & Free Game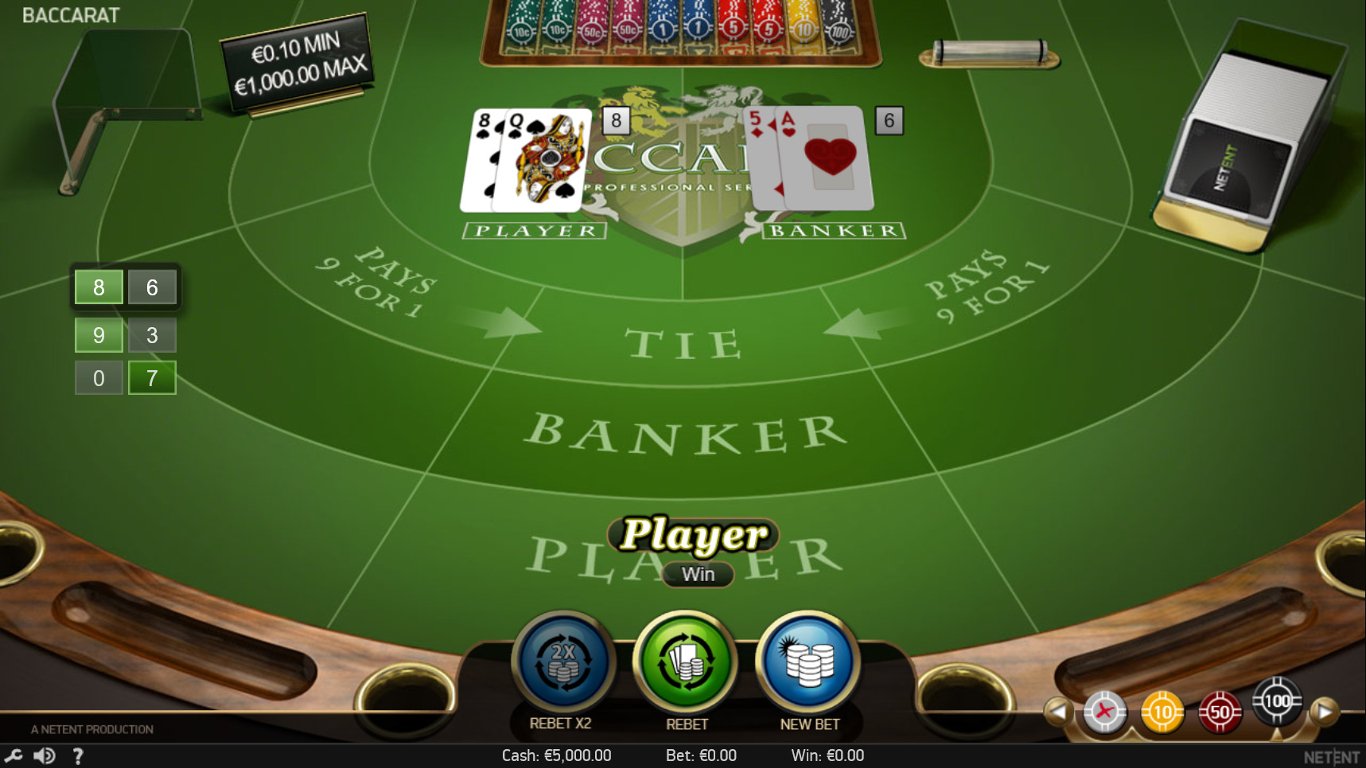 The first provider that comes to mind to many players when they think of companies that supply online casinos with games is NetEnt. They are one of the most reputable providers on the planet and they've supplied thousands of online casinos with high-quality games.
Their games are designed to provide players with a fun, exciting, and unique gaming experience, which often exceeds their expectations. One of those games is Baccarat Pro. This game has withstood the test of time and it is still considered a modern game, even though it was created in 2011.
General Information
Like we just stated, this Baccarat Pro from NetEnt was created in 2011, but thanks to its revolutionizing graphics and gameplay, it remains one of the most played games today and it is still considered as modern.
Two things make this game so loved by both new and professional casino players. Its simplicity is the first thing, while high RTP is the second thing. It is fair to mention that the RTP is 98.94% which is high above the average.
Players get to keep a majority of the winnings, which is not the case with other casino games. Baccarat Pro from NetEnt has soothing and relaxing visuals. They are designed to make the player feel comfortable and enjoy each round.
Furthermore, this game is fully optimized for both desktop and mobile use. You can play it on your PC or smartphone, at any time and place. All you need is a stable Internet connection. Playing on-the-go is also an option, as long as you have a good connection.
How To Play Baccarat Pro From NetEnt
Baccarat Pro from NetEnt is a very simple, but yet extremely exciting game. All you have to do is bet on the card that you think it has a higher value. This game is played with 8 decks of 52 cards they are always shuffled before the start of each round.
Cards 2-9 have the identical value, the Ace is worth 1, while 10, Jack, Queen, and King have a value of 10. Baccarat Pro follows the third-card rule, which means that if the hand is worth 0-5, the player will receive a third card.
There are 3 main bets on this game – Player, Bank, and Tie. Tie bets are always the riskiest, but the winnings are fantastic. When betting on Tie, the player wagers that the cards will have the same value.
After the bets are placed, the cards are revealed. The minimum bet at Baccarat Pro from NetEnt is €0.10, while the maximum is €1,000 for each of the three bets. That means that you can bet as much as €3,000 per round.
Conclusion
Baccarat Pro from NetEnt is one of the most modern and most exciting games to play at online casinos. There are tons of advantages for the players. Simple gameplay, fantastic RTP, and a low minimum bet are some of them.
Thanks to its simplicity and several other great features, this game is popular for both experienced and new players. The graphics are relaxing and made so that every player will feel welcomed.
Furthermore, the game is optimized for both mobile and desktop use, which means that you can either enjoy it on your PC/laptop or your mobile device. All you need is a stable Internet connection.
Try Related Baccarat Games Free