Baccarat from Microgaming Review & Free Game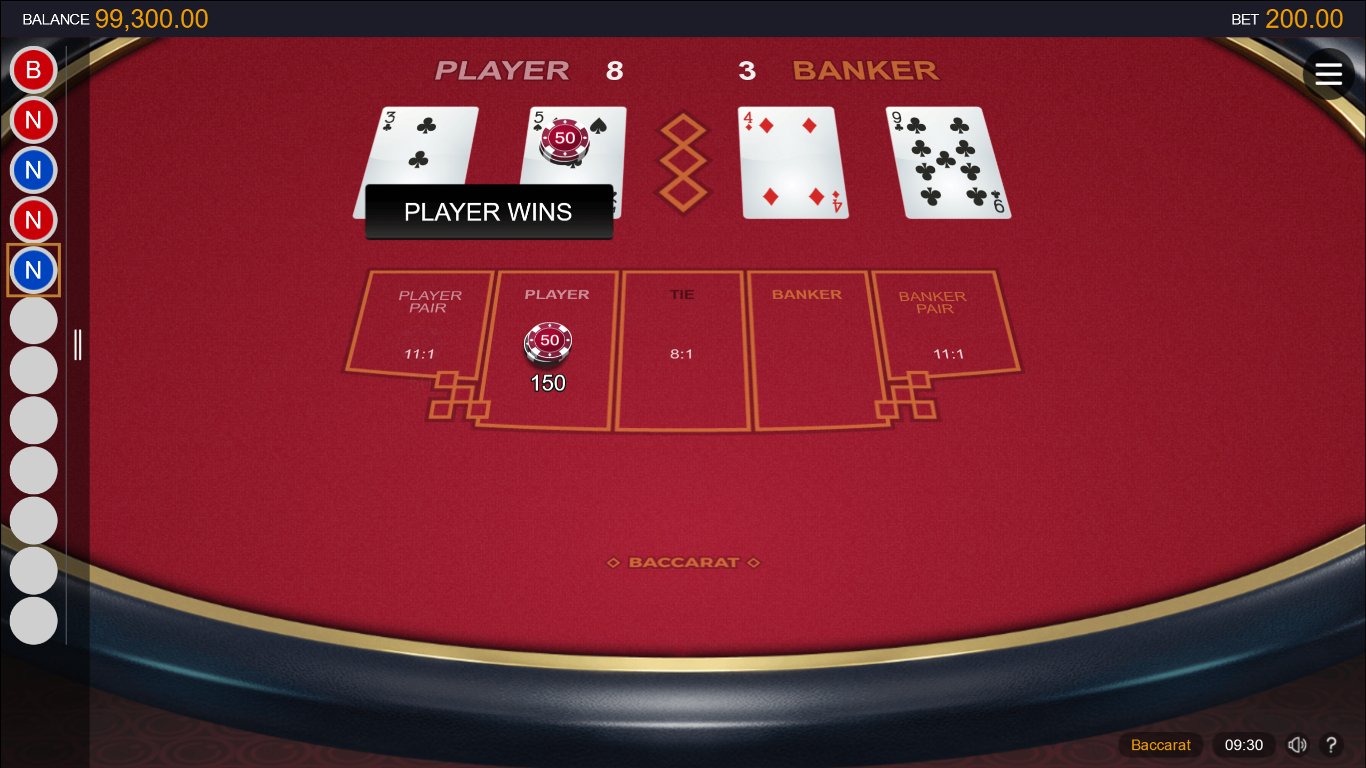 Microgaming is one of the oldest and most reputable game providers in the world. Reports state that they created the first casino software in 1994, as well as the first mobile casino software in 2004. They've supplied thousands of online casinos with fantastic games over the years.
Their line of expertise is vast and they have tons of different casino games. Baccarat is among the first games created by Microgaming. This game is one of the oldest and simplest casino games known to human, which is why they are so popular.
General Information
Baccarat by Microgaming is one of the most popular casino games by Microgaming and in online casinos that feature this game.
The simplicity of the game and its great rewards is what made it so popular. The visuals are casual and classic. They will give you the feeling like you are in an actual casino.
Furthermore, it is optimized for both mobile and desktop use and you can play it at any time and any place. All you need is a stable Internet connection. Regardless if you prefer to play at the comfort of your home or on-the-go, Baccarat by Microgaming is an easily-accessible game.
The RTP rate for this game is quite big – 98.99%, which is far above the average. Since the key to this game is its simplicity, there are no special features to look out for.
How To Play Baccarat from Microgaming
Baccarat is quite easy to play. All you have to do is bet on the higher card of 2. This is the perfect choice for many beginners into the gambling world.
The Microgaming version stays true to its traditional roots and has a simple layout. The classic ambient is what makes this game intriguing and fun to play.
There are three main bets at Baccarat from Microgaming – Banker, Player, or Tie. The winning odds for both Banker and Player are 1:1, while a Tie outcome has a payout of 8:1. A Tie means that both cards will be equal in value.
In the case of a winning hand, less than a 5% commission fee is applied. Like we mentioned earlier, the RTP rate of this game is quite high and you get to keep most of your winnings.
Baccarat from Microgaming is played with just one deck of cards and there are no side bets. Roadmaps and history grids are also not included, which makes this game perfect for beginners.
Like we stated earlier, the point of this game is to return the simpler ways of gambling in the online casino industry, which is why the game is extremely easy to play and it offers great rewards.
Conclusion
Baccarat by Microgaming is a must-try for all of the new players on the online casino market. This is a traditional game that boasts simple gameplay and has a huge RTP. Most of the winnings are returned to the player, which is why many consider this came as highly profitable.
Side bets are not included, which may be good since they are considered as risky bets by many players. The visuals and background are simple and soothing and designed to make you feel relaxed and ready to play.
While this is a favourite for many beginners, thanks to the great gameplay and massive RTP, you can also find numerous experienced players giving it a go.
Try Related Baccarat Games Free